Politics, Government & Current Affairs
UK Voting Intention: Labour's Polling Lead Three Points Over the Conservatives
Survation's latest political poll, conducted online between 26th – 29th January, shows that Labour continue to retain a polling lead over the Conservatives, albeit modest in this update.
State of the Parties – January 29th 2018 (changes vs. Survation polling on December 3rd 2017)
LAB 43% (-2); CON 40% (+3); LD 8% (+2); UKIP 3% (-1); SNP 2% (-1); GRE 1% (NC); AP 3 % (NC)
The last six Survation polls show higher support for the Labour party than the Conservatives, as seen in the graph below, this latest poll indicating a 3 point lead for Labour.  Support for the Liberal Democrats is up by two points since December, at 8%.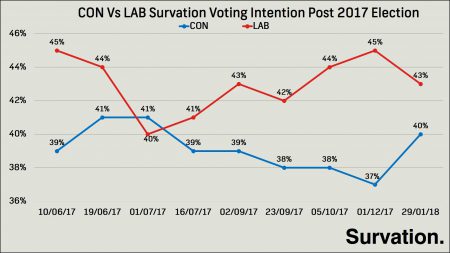 The poll also looked at current EU referendum voting intention, with no significant difference to report in comparison to previous polling.  When asked how they would vote if there was another EU referendum, 49% (+1) of those polled said they would vote 'Leave', while 51% (-1) would vote 'Remain'.
Full data tables can be viewed here.
Survation interviewed 1,059 UK adults aged 18+ online between 26th – 29th January 2018. Survation is a member of the British Polling Council and abides by its rules.
---
< Back