Blog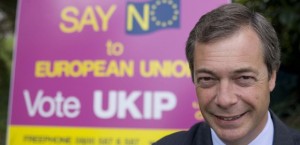 Local Election Analysis: UKIP "won" in 10 Westminster Constituencies
UPDATE: Since the publication of this article, we have identified a further two constituencies nominally won by UKIP. These are Castle Point (predicted 0.32% majority) and Bognor Regis and Littlehampton (7.35% majority). Data sheet has been updated to reflect these results, both of which are also current Conservative seats.
We've analysed the results from the local elections, dissecting the divisions that contain wards that make up Westminster constituencies.  We calculate that if last Thursday's results in these areas were at least as good in a general election (and there are factors at play that make this both more and less likely), UKIP would secure 8 MPs.
UKIP appear to have reached their "tipping point" at their current level of popularity where their vote begins to "cluster" allowing first-past-the-post victories.
The constituencies we record here are below:
Survation Locals Analysis (UKIP Section) Click Through For Full Data: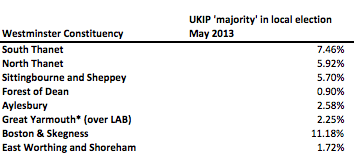 These are currently  all Conservative held seats, however 4 of the seats we list were held by Labour during the height of the Blair years. In Great Yarmouth (a 4,276 CON majority) the Conservatives actually came third in the area equivalent to the Westminster seat.
All the data and the calculation we've used can be viewed in a spreadsheet here. We would appreciate feedback. There is also an example of a constituency we've not included in our count – North West Cambridgeshire – as not enough of the equivalent constituency voted in the locals to warrant inclusion.
Geographically, clicking on a constituency in the graphic below will show the margin of victory UKIP achieved over the party in second place and the name of the sitting MP.
Analysis by Damian Lyons Lowe and Patrick Brione of Survation.
---
< Back