Politics, Government & Current Affairs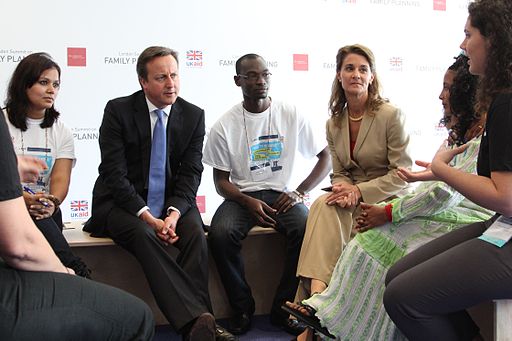 Young People and Politics – polling on behalf of Sky News
A survey of 1,003 16-24 year olds on behalf of Sky News provides new insights into their relationship with, and opinions of, the political system.
Overall voting intention
Labour – 50%
Conservative – 18%
UKIP – 16%
Green – 8%
Lib Dem – 6%
Opinions on the political process
It is often said that young people don't care about politics, a statement that does not seem fully supported by our poll. Whilst only 8% of young people describe themselves as "fully engaged" in the political process, a further 47% say they are somewhat engaged. And across all levels of engagement, 40% would like to be more engaged than they currently are. Just over half can name either the name or party of their local MP.
When asked how they could have the greatest influence on politics, 22% said voting was the most effective way, followed by campaigning on social media (15%) and signing a petition (9%). However, 14% said there was nothing they could do to influence politics and despite only 6% of young people saying they would not vote in a general election, young people still do not feel listened to. Whilst 42% do not try to make themselves heard, a further 44% say they try to have their concerns and beliefs heard but do not feel listened to.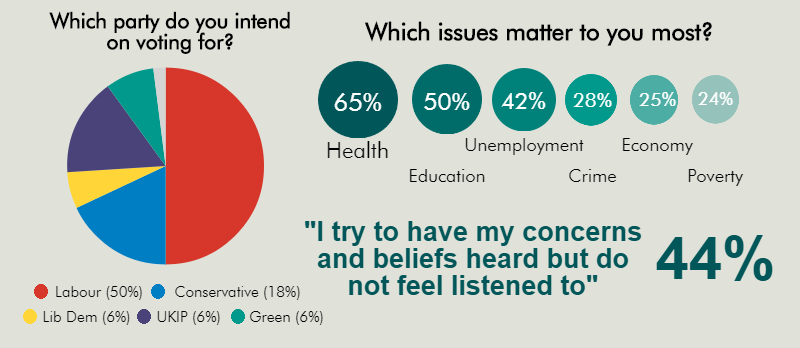 Were they to be listened to their priorities will not be unfamiliar ones. Asked for their top 3 issues, 65% mentioned the NHS and healthcare, 50% said education, and 42% cited unemployment. However, 59% of young people have either no confidence, or not very much confidence, that politicians will address the issues that matter most to them.
When it comes to increasing turnout in young people, 80% of respondents said they would be more likely to vote if they could do so online. Other initiatives were less popular – 64% were opposed to voting being made compulsory, and 67% did not think the voting age should be lowered to 16.
Opinions on politicians
Disillusionment with politics is mirrored and magnified by attitudes to politicians themselves. The attributes young people would most like to see in politicians were honesty (72%), being in touch with ordinary people (57%) and the ability to make tough decisions (47%). However, when asked which party leader best exemplifies the qualities they think are important 47% said no leaders fit their criteria. Cameron was the most frequently selected leader (22%) followed by Milliband (16%).
Prime Minister's questions seems to be doing very little to bolster the image of politicians. Of those that took a view, 58% said PMQs made them respect MPs less and 76% said they would be more likely to listen to what MPs were saying if they were better behaved in PMQs. However, 61% also said that PMQs showed that politicians were passionate and cared about the issues discussed.
Opinions on other institutions
Whilst trust of government is low, trust in public services is generally high amongst young people. When asked which institutions they trusted to address their needs, 78% selected the NHS, 66% the police and 54% trusted social services. Government was trusted by 31% – the only institution less trusted than government was the mainstream media, trusted by only 18%.
80% of young people do not feel that the media portrays them accurately, and they are more than twice as likely to say that social media reflects their views and concerns than traditional media sources (46% vs. 18%).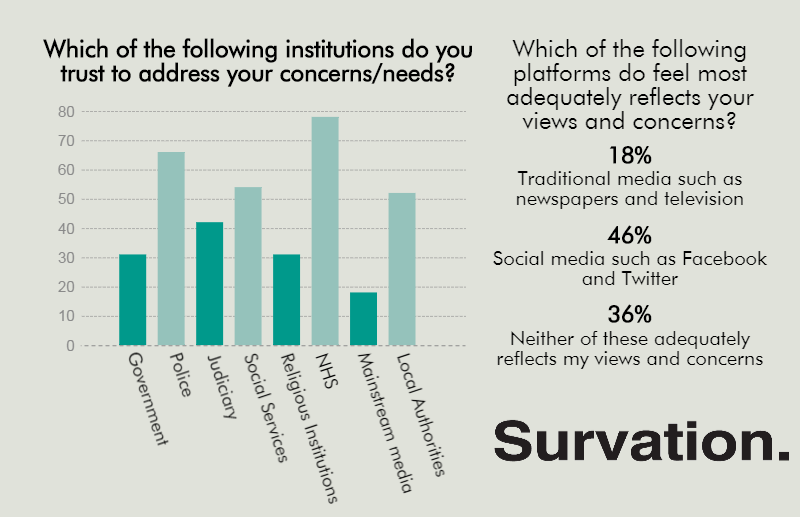 Fieldwork was carried out from 21st-26th August. Full data tables can be found here.
---
< Back