Blog
Young People: Fake News and who they trust
Survation conducted polling of 2,019 children aged 11-16 in the UK on behalf of BBC Education between the 13th and 20th May 2022.
As BBC Bitesize launches the Other Side of the Story project – an initiative helping 11-16 year olds to navigate fake news and misinformation online – this research provides an insight into who young people trust in regards to the news, and how they interact with it.
What news is trusted?
Traditional news outlets are the most trusted sources of information for children aged 11-16 year olds, with TV trusted by 74% of respondents. Of these traditional outlets, the BBC is seen as the most trustworthy source to receive news from, closely followed by ITV.
Social Media as a less traditional platform is still trusted by 47% of respondents. However, respondents were more doubtful about platforms such as Instagram and YouTube, in particular TikTok which sees only 31% of all respondents trusting in them. In spite of this, for those respondents who get their news from social media, TikTok is the most popular platform to do so (30%).
Representation in the news
Considering Television is the most trusted news source for a majority of 11-16 year olds in the UK, it is important to understand the effects of representation within this outlet. 
Over a third of respondents (34%) felt that news presenters on TV did not represent them. Only 20% felt represented on screen. Furthermore, 40% of respondents stated that they would be more likely to watch the news on television if the presenters represented them. This highlights the impact that representation has on viewership and suggests where changes could be made to increase young people's interactions with news on the TV. 
Young People and Fake News
When it comes to fake news, 87% of those aged 11-16 in the UK believe they know what it is.
Further investigation revealed that of those who had shared fake news in the past, 62% stated that they regretted it, whilst 28% said they did not.
33% of respondents stated they would not search for evidence to back up their views and just over a third disagree that their opinion on an issue is more important than the facts. This questions the extent to which young people know how to navigate misinformation and fake news.
Who to trust?
When respondents interacted with the news, parents were overwhelmingly trusted by their children. A majority (66%) would go to their parents to find out if a news story was true or not. Moreover, parents were the group believed the most (36%) by 11-16 year olds to tell the truth about the news. In comparison, social media influencers were only used by 35% of respondents to decipher the truth in a news story. However, these influencers were still believed more (5%) than politicians (1%) to tell the truth about the news.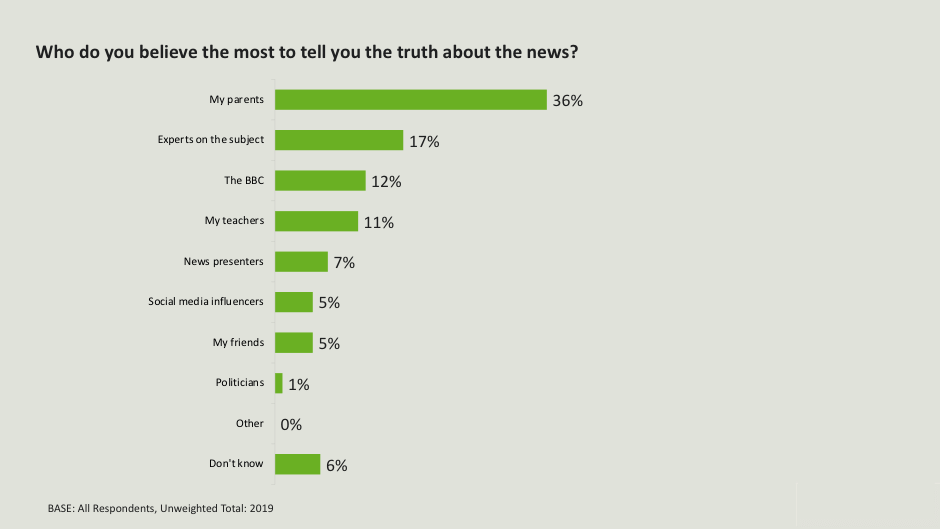 Get The Data
The tables for this research can be found here. 
Survation conducted online polling of 2,019 children aged 11-16 years old in the UK on behalf of BBC Bitesize, between the 13th and 20th May 2022. 
Read more from the BBC here.
________________________________________
Survation. is an MRS company partner, a member of the British Polling Council and abides by their rules. To find out more about Survation's services, and how you can conduct a telephone or online poll for your research needs, please visit our services page.
If you are interested in commissioning research or to learn more about Survation's research capabilities, please contact John Gibb on 020 3818 9661 email researchteam@survation.com or visit our services page.
For press enquiries, please call 0203 818 9661 or email media@survation.com
BPC Statement: All polls are subject to a wide range of potential sources of error. On the basis of the historical record of the polls at recent general elections, there is a 9 in 10 chance that the true value of a party's support lies within 4 points of the estimates provided by this poll, and a 2 in 3 chance that they lie within 2 points.
---
< Back