Consumer, Media & Technology
Channel 4's 10 O'Clock Live – What Do The Viewers Think?
A much needed lighter-hearted take on current affairs and politics has begun on Channel 4 with some prime-time big name stars – how are they doing? We asked the viewers…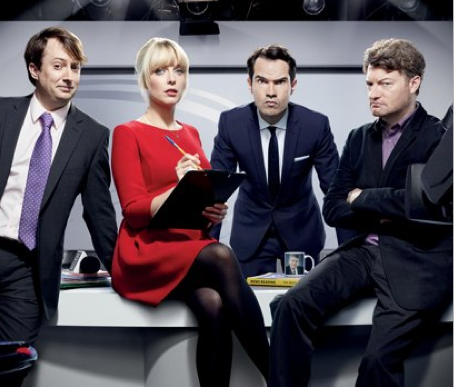 There has been much ado about the launch of Channel 4's 10 O'Clock Live show, attempting to mesh together the mainstream comedy pull of Jimmy Carr, the alternative humour of David Mitchell, sharp cynical commentary from Charlie Brooker and the indie-appeal of Lauren Laverne – is is working?
The summary of our report can be viewed here;
A full list of the questions we asked can be viewed here;
We'll report back on some of our own conclusions in the coming days but here are some higlights;
The show is rated a mean score of 5.6 out of 10 and a modal score of 7 by viewers
In terms of average (mean) "funny" score David Mitchell comes top with a 3.75/5 star rating, closely followed by Charlie Brooker on 3.72. Jimmy Carr is seen as the least funny male at 3.1/5 and Lauren Laverne lags the men with only a 2.27/5 score (graphic below – not in the summary).
Only 55% of viewers watch the show live – the remainder watching via catch-up TV.
Viewers rate David Mitchell highest in terms of importance to the show with 33% rating him a 10 out of 10 in terms of importance vs Charlie Brooker at 20%
35% of viewers say they are unaware of the online features of the show
Up to 48% of viewers switch over to other channels during the show due to clashes (details in the summary)
35% of viewers believe the show is too long
Viewers do not feel the live audience is an important feature of the show
73% of viewers feel the presenters work well or quite well with one another
How "funny" do you find the presenters? Give them a star rating out of 5;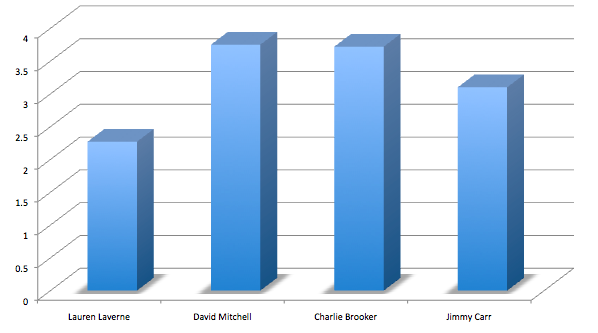 Further information
We have detailed demographic information on all respondents – nationality, home town, age, gender, education and daily newspaper readership. There are 36 pages of individual feedback – over 27,000 words in relation to the questions;
"Is there a presenter not currently in the show you would bring in as an addition to (or as a replacement for) one of the cast? If so, who?"
"Let us know what additional feedback you have on the programme. This may be shared with the production team and Channel 4, so your responses are of great interest."
If you would like more information on the questions, survey structure, cross-tabbed or would like weighted responses please contact researchteam@survation.com
Join Survation's survey panel here;
---
< Back